Sugar or sugars? What's the difference?

When we talk about sugar, what exactly are we talking about?
Sugar is a member of the carbohydrate family.
But what are the differences between sugar without an "s" and sugar with an "s"?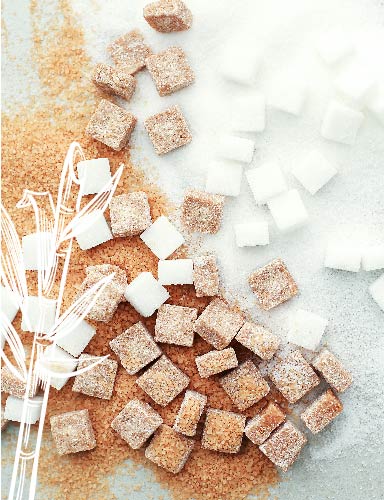 SUGAR OR SUGARS?

Sugar (singular, without 's')
→ Refers to white table sugar (sugar square, powdered sugar), derived from sugar beet or sugar cane. Its scientific name is "sucrose".
Sugars (plural, with "s")
→ Refers to all sweet-tasting simple carbohydrates: glucose, fructose, sucrose, lactose, etc.
Definition of a nutrition claim
Nutrition claims are statements on product packaging which state or suggest that a food has particular characteristics related to its composition or nutritional properties. These claims are subject to strict European regulations.

WHAT IS THE DIFFERENCE BETWEEN "SUGAR-FREE",
"LOW" AND "REDUCED"?
"Sugar-free"
The product contains no simple sugars. There is a tolerance, however, which must not exceed 0.5g of sugars/100g (or 100ml), which is very little.
"Low sugar content"
"Low in sugars": the product concerned must not contain more than 5g of sugars per 100g if the product is solid and 2.5g per 100ml if it is liquid.
"Reduced in sugars"
There is also a "reduced in sugars" label: the sugar content of the product must be reduced by at least 30% compared to a similar product, and it is up to the marketer to provide proof of this.
Calorie calculation
Good to know: Sugar-free does not mean calorie-free!

FOCUS ON MALTITOL

Maltitol, extracted from wheat or maize starch, is neither digested nor absorbed, so it provides fewer calories than sucrose ("table sugar"), 2.4kcal/g compared with 4kcal/g for sucrose. What's more, it has 20% less sweetening power than sugar.