Escape from the Blue Monday

Today, it's the Blue Monday and we will give you advices to start 2023 in a good mood!
Depression and anxiety can have a huge impact on people's life and can be caused by multiple reasons : hot topics, work, personal life or stress. In the world, 264 million people could be depressed and anxious.
MANAGE ANXIETY AND DEPRESSION

Everybody could be concerned ! For example : teenagers with their unstable emotional balance, stressful or overwork time for active young people and parents or isolated old people.
What are the tips to help you manage anxiety and depression and starting to think positive again ? 
Stay active and do regular physical activity 
Spend time with your family and friends 
Eat healthy
Sleep enough 

PLANT FOCUS
An ingredient you can use to think positive ? Saffron (Crocus sativus) of course!
Saffron is not only a spice you can use in your dish, it is also a plant used as a medecine since a very long time. 
Indeed, saffron is a non-pharmacological solution to improve anxiety and depression, saffron has been one of the most promising and natural way to reduce negative mood. 
Many studies have shown that 30mg per day of saffron can significantly reduce anxiety and depression thanks to four major bioactives compounds : crocin, safranal, crocetin and picrocrocin. These bioactives molecules could play a role on the brain serotonin level which could enhance positive effects against depression.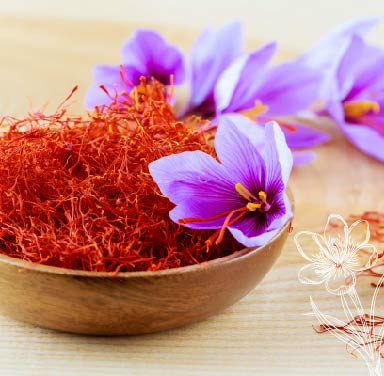 FUN FACT

Saffron have been used since ancient time by people for multiple reasons. For example, the Macedonian ruler Alexander the Great enjoyed soaking in saffron-colored water, convinced it would heal his battle wounds.